Ask Janis Editorial Services — 22 Years of Continuous Service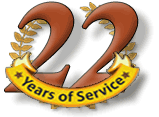 In 1994, Ask Janis Editorial Services was founded by Janis Hunt Johnson with her husband and business partner, David Chandley Johnson, pioneering one of the very first online editorial services available on what had just been coined the "World Wide Web."
The year 2016 marks our 22-year milestone for continuous online service!
Twenty-two years have flown by as we maintained continuous operations and evolved the company together, while most of our original competitors have folded.
It's All In the Name — Ask Janis
Janis graduated from Indiana University–Bloomington with a BA (English and Art History) in 1982 and a Library Science degree (MLS) in 1983. From 1982, she moonlighted as a freelance editor, proofreader, and writer. The course of her career took her to Chicago and Los Angeles. Wherever she worked, when there was a question about English, she repeatedly heard the words, "Hey, we should ask Janis! She'll know the answer."

Editorial Service — It's What We Do
What has set Ask Janis apart from our competitors and allowed our business to flourish? One word we never forget: Service. We offer consistent, hands-on, personal and professional editorial service geared to each project's particular needs. Our adaptable and customized service matched with our attention to detail is what makes Ask Janis unique.

Read what real Ask Janis clients
say about our editorial services!

In our first year, the business activity of Ask Janis skyrocketed as we garnered small business, corporate, and government clients, as well as authors and students, from across the country. The workload increased exponentially. To meet that need, we sought out, screened, and pre-tested the best freelance editors and proofreaders to help us.

Within two years of opening the virtual doors of Ask Janis Editorial Services we had signed on a roster of 25 rigorously pre-tested freelancers, on call across the United States—all experts in their fields to assist with specialized proofreading and editing, and even with indexing and translations as needed.

By matching the needs of our clients and their projects to the talents and strengths of our pre-tested freelancers, each project received the perfection in attention it required.

We can take you all the way from rough draft to that very last proof before going to print. And we're here to help with anything in between: helping a restaurant entrepreneur make sure the new menu is correct; polishing music instruction workbooks, drivers' manuals, and sports handbooks; or developing gorgeous coffeetable books, children's books, and inspirational books—from start to finish. Individuals and companies come from all over to Ask Janis, with any project you can imagine!

In 1997, we left Southern California for Southern Oregon. From our slice of paradise, we continue to work for you, wherever you are.

As print media and electronic publishing continue to evolve in the years to come, you can count on our editorial services to help put your written words in the best possible light:

All you have to do is Ask Janis!
Large or small, every project and client is unique.
At Ask Janis Editorial Services, you will be treated with exceptional professionalism. We will complete your project, customized to your specific requirements, budget, and deadline – and this can all be handled online.

No matter what type of written project you need editorial services for, Ask Janis Editorial Services is ready to put your words in the best possible light by making it right!


---

Please visit our Frequently Asked Questions page for fast answers:



Ask Janis Editorial Services
I am ready to help you write, now!
Office: 541-608-2880

Toll Free Fax: 888-217-8366

Skype: Provided On Request!
Managing Editor
Ask Janis Editorial Services

410 Newtown Street
Medford, OR, 97501
---

Ask Janis Editorial Services will always protect your right to privacy
and will never disclose, share or sell your contact information.